Every hunter should have a Wildlife license plate on his or her vehicle, trailer and motorcycle. Washington State adopted the new plates for elk, deer and black bear in 2005, with hundreds of plates placed on vehicles since. The proceeds from these Wildlife plates go to improving management for these and other wildlife species as well as wildlife-related conservation and recreation programs in Washington.
Game Management Plates are a series of "Washington Wildlife" license plates that feature and elk, deer and black bear. The proceeds for these plates go to:
• Habitat improvements
• Improved population monitoring
• Population restoration and expansion
• Improved public access opportunities
• Improved educational materials
Wildlife-themed plate fees benefit Department of Fish and Wildlife activities. The additional costs of the plates are $40 for new plates and $30 for subsequent renewals plus fees. After the state has been reimbursed for the cost to implement the new special plate, $28 of the initial and annual renewal fee goes to the wildlife program activities.
You can also choose Personalized License Plate. Since 1974, here in Washington the funds have gone to the Department of Fish and Wildlife for the management of wildlife, which are not hunted, fished, or trapped. In many states you can combine the two and purchase a Personalized Wildlife Plate.
You may purchase these for your 4 x 4, car, motorcycle or trailer. Better yet, purchase one for all of your sports vehicles.
Many states have these available for sportsmen and sportswomen. It is a good way to provide additional needed funds for our State Game Departments.
As you can see from my 4×4 truck license plate below, I have a low number. This means I received my plates soon after they became available in 2005. For most hunters the lower the number the better; you decided to support the program from the inception and have been sporting the Game Department every year with your $28 contribution.
In Washington State you have to have license plates on both the front and back of your vehicle. But the back plate is the only one you have to have the month and year tabs attached; tabs are not required for the front plate.
I also have Elk Plates for my utility trailer I use to haul all my gear in for hunting camp.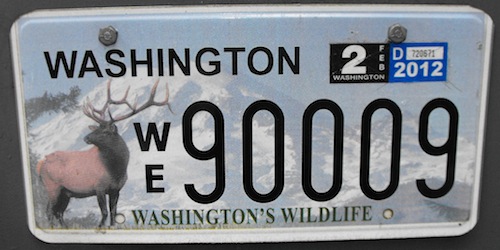 I was one of the first to get a trailer plate when they became available (the first 9 means it is a trailer plate). I try and support my Game Department where I can. I might look at getting additional Game Management Plates for deer or bear in the future.
By supporting the series of "Washington's Wildlife" license plates I am doing my part to help support the outdoors and the Washington's game animals. You can support your states game departments by purchasing these for your vehicles. It let's others know you are part of the outdoor conservation effort. We can do this together to help improve game management, habitat, and conservation and keep the way of life we all enjoy.